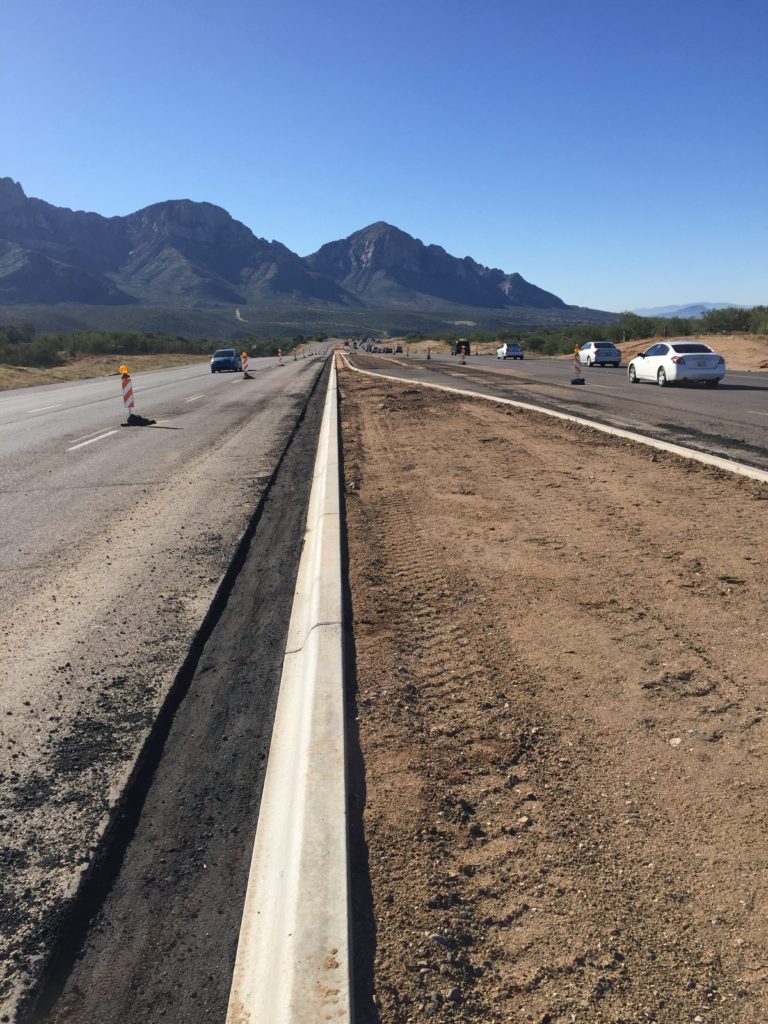 SR77 – Tangerine Road
Client: Granite Construction & Arizona Department of Transportation // Tucson, Arizona
Project Size: $1M to $5M
Widening the existing roadway by adding one lane in each direction and includes two wildlife crossings (one over and one under the roadway). Briston Construction acted as a subcontractor on this job for the prime contractor, Granite Construction. Briston's scope included over 150 storm water catch basins, scuppers and drop inlets, 55,000 linear feet of curb and gutter, over 50 ADA compliant pedestrian pathway access ramps, 20,000 square feet of driveways and  other related work.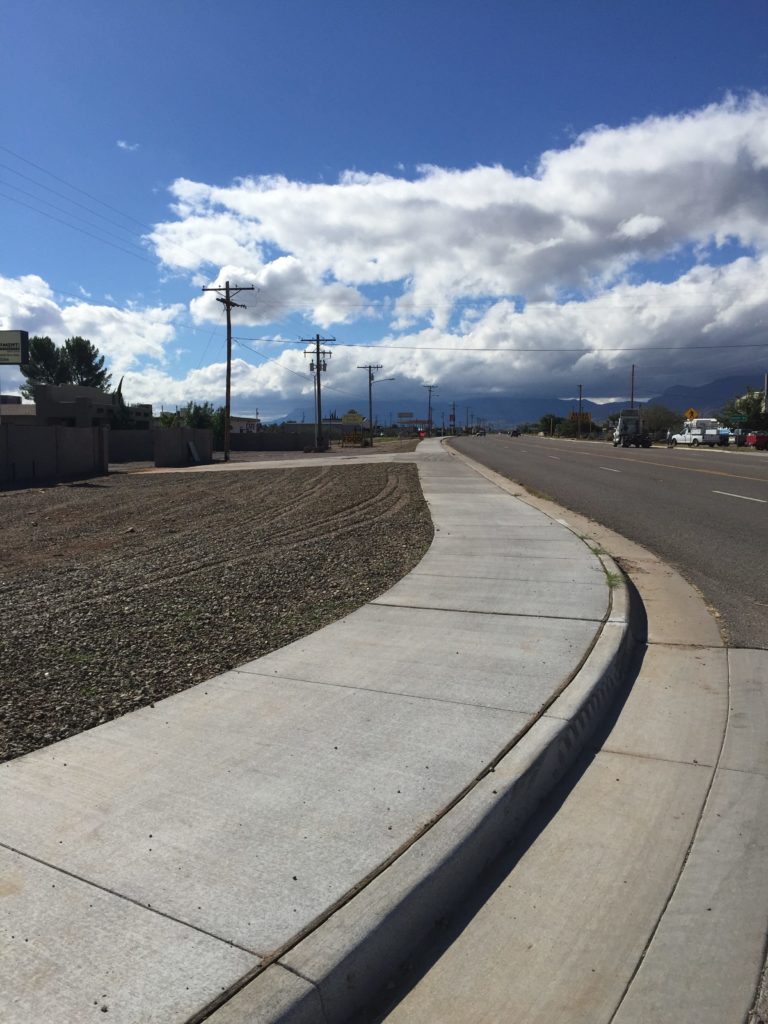 Whetstone TI – Fort Huachuca
Client: Arizona Department of Transportation // Huachuca City, Arizona
Project Size: $100K to $500K
Transportation enhancement project entailing constructing ADA compliant sidewalk on SR90 between School Drive and Patton Street and along School Drive from SR 90 to Gila Street for approximately 1 mile. The improvements included new sidewalk ramps, curb, driveway aprons, mail box relocations, two "Huachuca City" monument signs, granite mulch, signing, site furnishings, utility adjustments, and other related work which all benefited the people of the surrounding communities.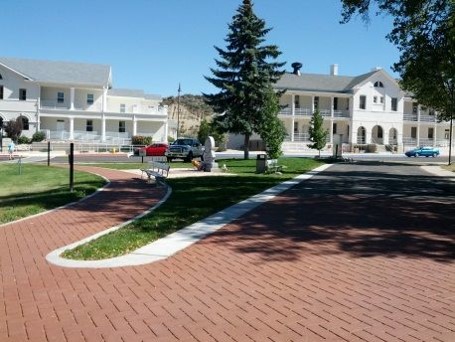 Repair Road & Steam Lines
Client: Department of Veteran Affairs // Prescott, Arizona
Project Size: $500K to $1M
The main focus of this project was the multi-phased demolition and rebuilding of the existing primary campus loop roadway that was almost a mile in length. We pulverized 12,000 SY of asphalt, re-graded the surface, repaired failing subgrade, and resurfaced roadway with 4″ of new asphalt. Along with the asphalt replacement we also had to remove and replace 3100 LF of curb and gutter and 1500 square feet of handicap ramps. We also modified the existing traffic circle by relocating an existing POW-MIA monument to a new location; adding 2800 SF of color-stamped asphalt in the walkways and the main entrance to hospital; and altered the landscape and irrigation system to fit the new design. As a sub-project to this contract, Briston also replaced a large section of the campus steam-condensate system lines. This scope included demolition of 180 SF of sidewalk which was originally monolithically poured with the tunnel lid; removal and replacement of 390 LF of insulated, copper, steam-condensate lines; installation of structural metal decking for the tunnel lid replacement; and pouring of the concrete sidewalk to cover the metal deck. During this scope of work, we supported and protected live electrical and fiber optic lines within the tunnel that fed the hospital campus.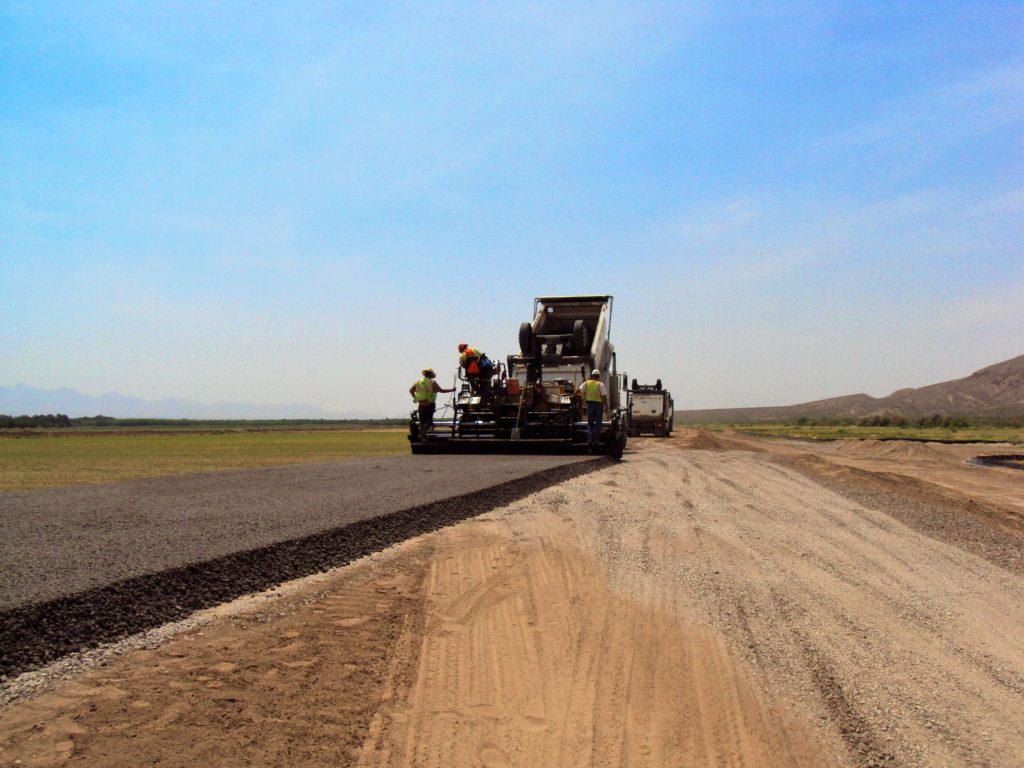 Mesilla Levee Segment Phase 2
Client: International Boundary & Water Commission // Las Cruces, New Mexico
Project Size: $1M to $5M
Reconstruction of approximately 19 miles of the existing Mesilla Levee Segment along the Rio Grande.  Scope of work included approximately 730,000 CY of earthwork to construct a 2-foot thick clay cap over the existing levee, extending several drainage, concrete structures, installing Waterman sluice and flap gates and almost 80,000 LF of toe drain system with geotextile fabric.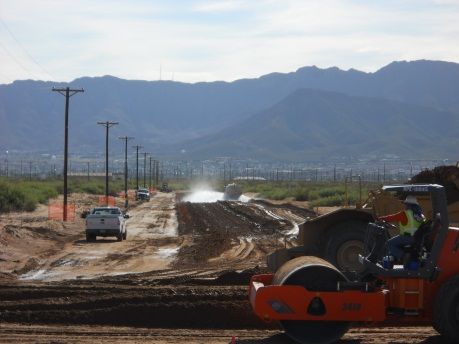 Fort Bliss Cantonment Area Roads
Client: U.S. Army Corps of Engineers // El Paso, Texas
Project Size: $1M to $5M
Cantonment Area Roads was a Design-Build project that consisted of tying in 2.13 miles of paved and dirt roads from the flightline Hot Cargo Pad to the main taxiway apron on the west end of Biggs Runway at Fort Bliss Army Base in El Paso, TX. The project entailed pulverizing over 4500 SY of existing asphalt pavement, 89,000 SY of clearing and grubbing, site grading, installation of RCP and CMP storm drainage, subgrade prep, and placement of 19,275 TNS of base course, almost 6,500 TNs of asphalt paving, and striping necessary to complete a 36 FT wide roadway. Briston Construction and our designer engineered a roadway profile of 12″ of base course and 4″ of asphalt to meet the 30 year service life specified by the Corp of Engineers.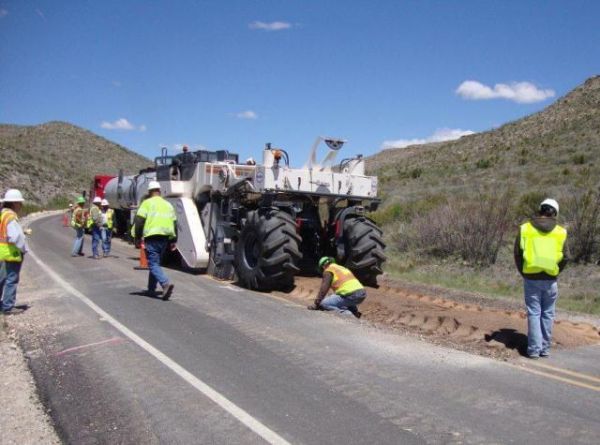 Carlsbad Caverns Visitor Parking & Entrance Road Reconstruction
Client: Federal Highway Administration // Carlsbad, New Mexico
Project Size: $5M to $10M
Overall site improvements to the visitor center and complete reconstruction of the visitor parking lots, storm drainage systems, and the almost seven-mile, two-lane roadway entering the park. The project scope included site SWPPP, demolition, parking lot reconstruction, critical vibration-sensitive drilling and rock excavation at depths of up to 25 feet for (3)-7200 Gal and (4)-450 Gal oil-water separators located directly above the caverns, (10) cast-in-place Type 5A inlets, 690 LF of 24" CMP, 165 LF, 36" CMP, 4,570 CY of roadway excavation, 40-120 Ft high rock slope scaling, 3,800 CY of export, 660 LF of 4" SDR-35 drainage line, 3950 LF of electrical conduit, installation of a concrete-encased, high-voltage duct bank, 12,000 LF of integral colored curb & gutter, 4,350 SY of integral colored sidewalk, ADA access improvements, flag pole relocation, park entrance sign construction, reconstruction of historical site masonry walls, site furnishings, sign and informational kiosks, 35,000 SY of subgrade preparation, 19,235 TNs of asphalt super pave, 107,890 SY of cold-recycled asphalt base course, striping, signage, import and placement of topsoil, and final site stabilization.